About SERVPRO of Central East Baton Rouge Parish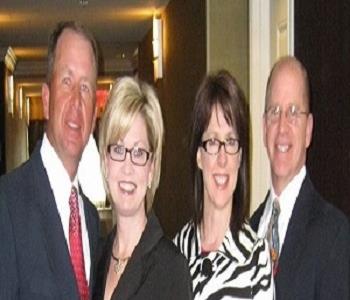 Jeffrey L. Betz, Wilbur G. McDaniel, Blake J. Betz, Timothy J. Neathery
Owners of SERVPRO of Central East Baton Rouge Parish
SERVPRO of Central East Baton Rouge Parish was started by Wilbur McDaniel and Jeff Betz in 2005. We provide the best service while helping you and your loved ones deal with all types of disasters. With a determined attitude SERVPRO of Central East Baton Rouge Parish set the stage for how best to mitigate the damage to your home or business.

In our first year in business we saw the devastating effects that Hurricane Katrina, and Hurricane Rita caused our community. We are in business to help restore our communities after disasters like these strike. Living in Louisiana we know first-hand the damage that flooding can cause. We've helped local citizens of Baton Rouge, Monticello and more local areas, as well as out of town cities like Maryland in 2011, New Jersey in 2012, Colorado in 2013 and South Louisiana 2016 when their communities were devastated by flood damage.

Our staff is highly trained in property damage restoration. So you can rest assured that from initial and ongoing training at SERVPRO's corporate training facility to regular IICRC-industry certification, our staff is equipped with the knowledge to restore your property. Since emergencies do not always happen during business hours, we are on call 24/7 and a live person will always answer when you call. With a nationwide system of qualified franchises, no damage is too large or too small for SERVPRO of Central East Baton Rouge Parish.

If you would like to schedule service for your home or business, please call today!
Insurance and Payment Information
For a stress free claims process, SERVPRO works with your insurance to help manage the insurance process and paperwork.
We also accept the following credit cards for your convenience:



Certifications
ASD - Applied Structural Drying Technician
CCT - Carpet Cleaning Technician
CDS - Commercial Drying Specialist
ECTP - Employee Certification Training Program
FSRT - Fire & Smoke Damage Restoration Technician
IICRC Certified Firm
OSHA - 10-hour General and/or Construction Industry Training Program
OSHA - Other Training
RRRP - Lead-Based Paint Activities and Renovation
RRT - Carpet Repair & Reinstallation Technician
WRT - Water Damage Restoration Technician
Affiliations
Baton Rouge Claims Association
Central Chamber of Commerce
IICRC-Institute of Inspection Cleaning and Restoration Certification
Our Lady of the Lake Children's Hospital
PIA of Baton Rouge
Awards
SERVPRO Top 100 Franchise
SERVPRO Double Volume Award